Shafted Screw Conveyors date to Archimedes and are still one of the most widely used and simplest devices for the movement of material. Shafted screw conveyors are compact and easily adapted to congested layouts.

Custom Conveyor's Shafted Screw Conveyors efficiently convey dry to semi-fluid and free-flowing to sluggish materials. Screw conveyors are available in a wide variety of materials and US Conveyor Equipment Manufacturers Association (CEMA) sizes. Horizontal and inclined shafted conveyors are available. Special configurations include leveling, load-out, pivot and stacker designs.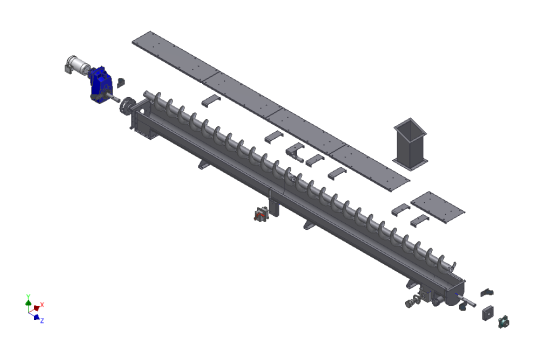 Custom XLM Shafted Screw Conveyor Bearings
The XLM (Extremely Low Maintenance) Shafted Screw Conveyor Hanger Bearing is a conveying product unique to Custom Conveyor Corp. This preferred shafted screw conveyor hanger bearing replaces the standard hard iron hanger bearing with machined roller bearings and mechanical seals. XLM has a long life with low maintenance and with the recommended self-lubrication system works well for long runs and trouble free conveying. We design and manufacture our XLM Shafted Screw Conveyors with pride and confidence. All you have to do is install, turn on and let this workhorse conveyor run.